Mach 1 Builds on Mustang Heritage
By: John Fossen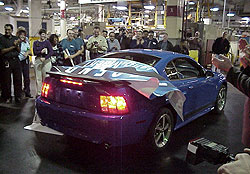 The first Mustang Mach 1 rolls off the line
DEARBORN, Mich., Nov. 11, 2002 (FCN) -- The Mach 1 is back! Employees at the Dearborn Assembly Plant last Friday celebrated production of the latest version of America's famous pony car.
The plant will build 5,500 of the new 2003 model, which includes Magnum 500 chrome wheels, comfort-weave leather seats and the signature shaker hood scoop that hints at the 305-horsepower V-8 that lies beneath.
"Every time we've built a special vehicle, like the Mach or the Cobra, it adds extra excitement to the people in the plant and they do their jobs with a little more enthusiasm," said Gary Walkowicz, UAW plant chairman, Dearborn Assembly Plant. "We're very proud to have a chance to build the Mach 1."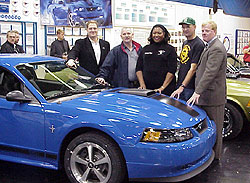 Paul Russell, Mustang marketing manager; Will Cowell; Barbara Williams; Gary Walkowicz; and John Tatge, Mustang assistant chief engineer, pose next to the first 2003 Mustang Mach 1 at Dearborn Assembly.
"I think the membership puts great pride in their work and it will show with the Mach 1" added Barbara Williams, vice president, UAW Local 600.
To enhance the low-to-the-ground appearance, the car features another classic Mach 1 trait, an air dam extension, painted low-gloss black. A low-gloss black stripe runs the length of the side just above the rocker moldings.
Born out of passion of Mustang enthusiasts across the country, the new Mach 1 is lowered one-half of an inch and is equipped with a firmer suspension for improved handling. It also comes standard with anti-lock brakes, traction control and a Mach 460 six-disc in-dash CD changer audio system.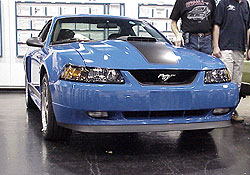 Mustang Mach 1
"What an experience it is to drive!" said Will Cowell, manager, Lean Manufacturing, Dearborn Assembly Plant. "Anybody who has been in that car has felt, saw and heard everything that it has to offer. It's a beautiful car."
The Mustang is the best-selling convertible in the U.S. and has led its segment in overall sales for more than 15 years. Ford and the UAW build approximately 160,000 Mustangs each year at Dearborn Assembly.